There may not be an eloquent way of describing it. It might not prove to be anything more than what it currently is. They frequently portray human greatness in movies as a supernatural quality that only existed before our times. Robert Redford was the ďNaturalĒ and Willie Mays was natural. You know that one is fiction and that one is a historic monumental figure only told through classic footage and interviews. Only Hollywood blurs the boundaries and makes us believe itís real to this day. It is real. It is not fiction told to us by a well-paid actor or Kevin Costner. But to be a natural? Statistics and brandished 5 tools, thatís what defines a player greater than everyone around. But what about an aura of invincibility that even simply watching on the TV, you could feel the natural ascension to a place none of us can dream of reaching and subsequently making those around him better. Certainly this doesnít describe our current or future president but just one nine starting players that take the field every inning of a game (1).
We think we've seen greatness and we know we've seen greatness. We remember Tony Gwynn and his smooth swing, hitting everything in sight. We remember Cal Ripken Jr. refusing to miss a game when a lot of us will miss class or work with a tummy ache. We've just now seen the excellency of the Captain's winning ways finally end on a bitter note this season, but it doesn't discredit everything else Derek Jeter has done. Greg Maddux, Tom Glavine, John Smoltz, Mike Piazza, Robby Alomar, Mariano Rivera, Pedro Martinez- yeah we were privileged to witness their peak of baseball supremacy. But we were lied to in the same process by some. Barry Bonds let us down once and proved only to be a false prophet for the game of baseball. He was an impostor attempting to shameless flaunt his God-given abilities to the world and for the longest time, we bought in and we showered him with awards. We just never liked him as a person. He wanted us to believe he was an immortal. Yet such a tragic stain on the sport could not douse the brooding flame in St. Louis and you know who I speak of, by which that player has been reigning supremely in the National League for several years. You also know it takes an unprecedented effort to keep him from being the Most Valuable Player award, and thereís no reason to think heís stopping anytime soon. Even with a tremendous rookie year under his belt, I never felt at that time that he was an inhuman entity that could not be defeated by regular means. Albert Pujols (2) is as unreal a talent as you can imagine but thatís not whoís on deck.
When he stepped up to the plate, I just knew that this was a guy that would be one of the best and I was fortunate to see the beginning. Thereís always hype for a reason and itís not always a determinate factor on whether a player ends up truly being great or not. Do you know that feeling that creeps up on you when youíre watching a particular player? You just know that this is a special person and at once- at any moment- he would do something incredible. I get giddy merely thinking about this. Heís not a player thatís on my team, or for a team I honestly cared much about and frankly not many care about his team but watching him re-affirms your passion for baseball. Only a monster could not like what he brings, what he essentially means to the sport. I openly admit I would love to be a die hard fan of his team, and thatís only after witnessing him snag a potential double down the line and throw out the runner. With ease. Just this moment flooded my mind with short phrases typically outlined with various four letter worlds and punctuated with mental exclamation points at the end. Ití couldnít be anymore obvious. I wonder if this is a potential marketing gold mine for baseball? Would anyone dare go beyond Derek Jeter (3)? Tampa and really Florida professional sports attract few fans as a whole, close-minded Boston fans really had no idea Tampa had anything more than a pinata for them to whack on until the brawls earlier this year, and West Coast fans donít particularly care about East Coast teams. But with his play, should make you care and change the way you feel about the Rays or if nothing else, the way the game of baseball is played today. When he came to bat in the all-star game, remember he was called up just months ago, you knew we was going to come through in the clutch. Heís not a rookie, heís a baseball natural, perhaps a testament to a living God sent to cleanse the baseball world of evils and make us forget every sin created by Roger Clemens, Jose Canseco, or Rafael Palmiero (4). He defines the positively human emotion that will only succeed when the situation calls for impossible. This is not Will Smith as Hancock, or any movie character defying basic expectations of him, itís only and I do not mean only in a sense he is just a dime a dozen, but the third baseman for the 2008 AL East Division Champions, he is the new driving force for this generation of baseball, an appropriate person to carry the legacy onwards in the face of all those who despise the very game that canít carry a whimper next to his aura of invincibility. Evan Longoria is not NEXT, heís now and heís 100% real. What happens from here is unpredictable (5) except maybe every time you see the man play, you witness something you have to cherish, for it may never happen to you again (6).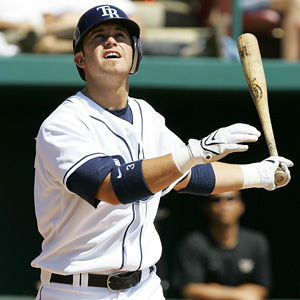 Notes:
1
I honestly had chills watching him for the first time, snaring that liner and then smacking the cat walk with a blast, it was unbelievable. But not the total inspiration. Two men on opposite sides of the baseball complexity scale have both feverishly pointed out itís stupid that people will not watch the baseball games because itís not going to be a Cubs-Red Sox world series. I agree, it's stupid but sadly it's true. Do the four remaining teams care about Neilsen ratings? Or to quote one of those guys, ďdo I care how much money Fox makes?Ē. Thereís excitement worth watching thatís still playing, if you find a way out of your closet. Now I can't speak for Tim McCarver driving you away from the TV.
2
Albert Pujols is widely established as the best player or close to being the best player in the league. And thereís only weak arguments against the claim. Something to consider, have you noticed how good Brad Lidge has been? Now can you believe Pujols essentially set him back a couple of years psychologically with one swing? Thatís super human.
3
David Ortiz has fallen down a few notches right? Iíve seen Danny Haren and a few diamondbacks in a Taco Bell commercial with voice overs. Who else is out there being flaunted around like a Peyton Manning?
4
You can add Amberoix Burgos and Hank Steinbrenner to the list.
5
Hereís the problem with ďnaturalsĒ who arrive from the Tampa farm system: unfortunately injuries have reduced Rocco Baldelli to run of the mill role player, Scott Kazmir has shown flashes of brilliance for periods of time but also is frequently bogged down by injuries, and Delmon Young was unable to control his temper and was shipped out for a pitcher who also wore his emotions on his sleeves. And catcher for that matter. B.J. Upton is currently showcasing his natural abilities but probably passed Jose Reyes and Alfonso Soriano on the didnít hustle leader board. I feel safe saying Longoria will be just fine, though.
6
There is no jinx, since this was written around game 2 of the ALCS. Besides, he's not the one giving up homeruns to guys with one arm. Cue Harrison Ford.